Nordland 2014
(by David Kromka)
The longest day, the longest flightline: two words that give a good impression of the superlatives achieved during this year's EMPOA club trip.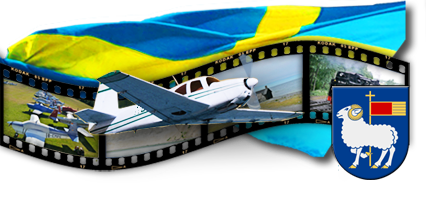 It was great to see how many Mooniacs follow our calling to come together and participate in the club's events and Europe's leading Mooney association can be mighty proud of that.
A little bit of luck is necessary of course: the weather was perfect this time and helped us greatly to achieve the large turnout number.
It all started with three Mooneys on Tuesday afternoon. As reconaissance plane N252CG had landed and met with Peter Marton and Hans Dietrich who had been coming early to Ruegen as well. Together we went straight to the little harbour town of Lauterbach where we enjoyed a nice After-landing-beer as well as tasty fish delicacies.
The action started Wednesday around noon: first we had to pick up our minibusses at Bergen, buy some welcome snacks and off we went to the airport again. Almost constantly Mooneys were landing from all over Germany, Denmark and France. We never saw that at EMPOA before: in the evening 27 Mooneys, perfeclty arranged to a twin-sided flightline, were parked in the most beautiful sunlight. They were all there, from brand-new Acclaim to historic M20E's.
A special honor was the landing of frequent Earthrounder Henning Huffer. Our guest speaker this evening came with a JetProp. EMPOA president David Kromka and EMPOA treasurer Lothar Lucks were able to open the annual general meeting almost on time shortly after 6:00 p. m.
Special emphasis was given to the positive development on the number of members, possible acquisitions from EMPOA's well stocked cash account as well as the planning of future activities. The discussions were lively and several ideas for the future were proposed. The presentation of the AGM is attached (only in German). It was especially nice to see the increasing use of our EMPOA website and the kick-off of the new forum. Our webmaster Karl-Heinz Schmidt was present at the AGM and the Mooniacs thanked him for his continued support.
The highlight of this evening was the presentation given by Henning Huffer, who tends to speak of himself as adventurer by profession and lawyer by hobby. He gave us an insight into a life filled by thousands of hours in the Mooney, dozens of North Atlantic crossings and several round the world-trips. Also later, during our dinner, he was a much-demanded man and the get together with Henning was very enjoyable. It took some time before the last one of our group headed home, since the transfer with our minibusses to Lauterbach took a little time.
Thursday started with cloudy skies and the Mooniacs were glad they didn't have to fly that day. Our excursion led us first to Puttbus where we boarded the steamtrain "Rasender Roland". It took us to the nearby seaside resort of Binz where everybody had to make a choice. The larger part of the group went onto a boat trip to the famous chalk cliffs of Rügen. We were told that there were quite some waves but hardened Mooniacs had no problems with that kind of turbulence.
The remaining Mooniacs drove with minibusses to the former Nazi vacation resort of Prora, still the world's longest building. During a visit to the exhibition and a guided tour of the premises we got to know this early version of modern mass tourism.
Shortly after return with "Rasender Roland" we met in the Am Bodden hotel in Lauterbach where we enjoyed a fantastic seafood buffet. Since next day would ask for our flying abilities, the evening was not too long and even before midnight everyone went to bed.
Already during breakfast David Kromka was able to present good news from destination Bunge: the Swedish airport operator had reported "the most beautiful weather at Bunge". This led to big smiles on the faces of the Mooniacs and with lots of pleasant anticipation we drove to Ruegen airfield. 17 Mooneys in total wanted to continue on to Sweden and constantly the flightline was getting smaller. Some planes departed in VFR, most in IFR and shortly past noon, N252CG was the last aircraft taking to the skies.
Some cloud layers were encountered enroute but all of us were able to either climb on top or stay clear well below. About two hours later all speedmachines landed at ESVB and arranged another neat flightline. The respective rehearsal at Ruegen helped a lot. Midsommar started with Scandinavian laissez-faire. Our minibusses were ready for collection with keys in the unlocked cars and without any rental formalities. Our safe arrival was celebrated by cheering with Akvavit and home-distilled williams schnapps from the Straubinger family.
Some participants visited the airfield's collection of Swedish fighter planes while others ventured across the road to the Folksmuseum to see traditional Midsommar dances. Our hotel was not too far away in the center of Farösund and boasted lots of Scandinavian charme. After some Mooniacs had emptied the first bottles of wine in their small circle, it was time for everyone to walk down to the shore where we had our private Midsommar tent waiting. All the best from the Swedish kitchen was there: little lamb meatballs as well as Janssons Frestelse were washed down with lots of wine and Akvavit.
The sun did not set this evening and the Mooniacs' mood was becoming constantly more frolic. Shortly past midnight some even made their way to Bunge airfield where the skydivers were hosting a big Midsommar party themselves.
David Kromka
Saturday morning proved to be difficult for some who had to pay the price for a long and wet Midsommar night. Visits to nearby island Farö were therefore done in smaller groups. Some undertook an island tour of their own visiting famous Katthammarsvik smokery. In the late afternoon everybody met in the island's historic capital Visby but a larger city tour was not possible due to nasty rain. A large part of the group had to head back to Farösund anyway since this night featured FIFA soccer match Germany against Ghana. We saw this on the large screen of a local pizzeria.
Sunday morning featured clear blue skies, as ordered for our return flight heading south. After some minor technical problems were resolved the Mooney caravan did leave for the homebases. Three however used the opportunity to stay for another day. Finally, all landed safely at their destinations and took home unforgettable memories. We are quite sure that most of them will be showing up on the next EMPOA events again.
David Kromka