Christmas-Fly In 2016 Staufen
(by Birgit Hutz)
Because it was so beautiful last year, the EMPOA has again invited this year to a Christmas Fly In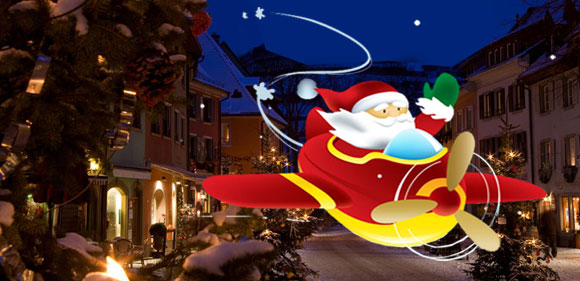 This time our flight destination was the airfield of Bremgarten, EDTG, in the southwest of Germany just behind the French border. 10 Mooneys from France, Germany and Austria landet in Bremgarten on 10 December 2016 in beautiful winter weather without snow, and more Mooniacs came by car so that we had a total of 30 participants.
In the aviator friendly restaurant "Fliegerhorst" at the airfield Bremgarten we met and enjoyed good lunch. Afterwards, we were able to see the beautiful historic aircrafts, which are still flying, in the neighboring hall of the Meier airship. At the sight of the Mustang, Boing Stearman, Bücker Jungmeister, Corsair and Messerschmitt, to name a few, many Mooniacs got bright eyes.
In the later afternoon we drove about 10 minutes to the historic, medieval small town of Staufen to our hotel "Gasthaus zum Löwen". Staufen's most famous inhabitant was the legendary Doctor Johann Georg Faust, who many might know from the literature of Goethe. In 1539, Faust is said to have lost his life in his room at Gasthaus zum Löwen during an explosion, probably while trying to produce gold through alchemy.
From there we took a small walk through the Christmas-decorated old town of Staufen and stopped at some of the mullet wine stands wall stands. Some Moonioacs even met an angel.
For dinner we met in the party room of the Gasthaus' zum Löwen. After a little talk from Birgit we ended the evening with very good food and wine and discussions about our Mooneys and plans for future flights.
On Sunday some Mooniacs went by train to Freiburg to see the Christmas market which is located around the "Freiburger Münster" (the cathedral of Freiburg).
All Mooniacs came home well, even if due to fog in one Mooney could not land at their home airfield.
I am very happy that a lot of French and German Mooniacs came to our Christmas party and we could strengthen our Franco-German Mooney friendship - next time with mixed tables at dinner.
Birgit Hutz