Dear Mooniacs !
With carneval just coming to a close we are all looking forward to an interesting and most of all safe flying season 2018 aboard our Mooneys.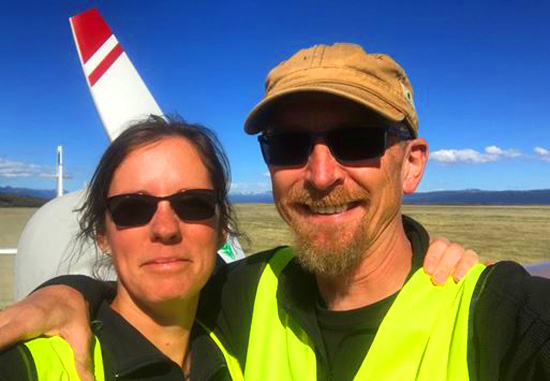 (Tina and Gunter Haug at Fin del mundo in Ushuaia, Argentina)
With regards to EMPOA we are hosting a trip from June 14 to 18 to Aschaffenburg and Plzen in the Czech Republic. And we are already preparing our Annual General Meeting that will take place on June 14, 6:00 p.m., at Aschaffenburg (EDFC) and we would already like to cordially invite all of you.
It is very good news that EMPOA is enjoying a sound financial situation. Therefore we would like to ask all members to start thinking which project we want to start and support in the future. Your ideas concerning purchasing and investments are greatly appreciated and we would like to hear from you before our AGM in June. Why not get several Personal Locator Beacons for longer trips, another life raft or some special tools for Mooney maintenance? The sky is the limit...
Flying our Mooney is great fun – we surely all agree on that. But flying together is even greater fun. Therefore we would like to encourage all members to come forward with ideas for future fly-ins and organise them respectively. As a club we need this involvement of our members and you can rest assured that EMPOA will do everything to support your initiatives.
A very special adventure is on at this time for our Mooniacs Tina and Gunter Haug from Mannheim EDFM. With their Turbo Mooney N228RM they have been crossing the North Atlantic, flown over North America, the Caribbean and South America all the way to Tierra del Fuego and Chile. Presently they are in Texas on the return trip. If you want to keep up with those long-distance-travellers you can do so on Facebook at "N228RM" and on the forum of the website www.EuroGa.org
We wish them all the best for their winterly return flight and look forward to seeing them at Aschaffenburg and Plzen where they will be touching down with us again.
-Fly safe - and fast!-
Lukas Straubinger