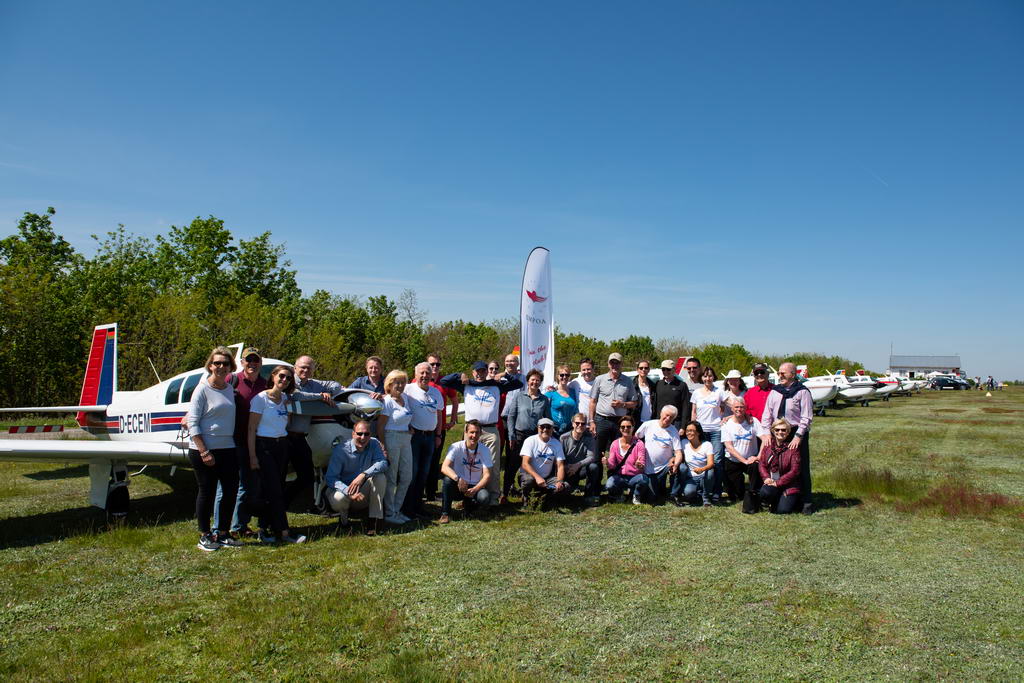 Trip report from Regensburg and Krems
Rain and low-lying clouds set the scene at Regensburg airfield on Thursday morning, which was the location of this year's EMPOA trip organised by Fritz Kaiser.
Regensburg
But despite pretty bad weather conditions all aircraft and their crews arrived as planned at Oberhub airfield until late afternoon. Quite a few did use nearby Straubing airfield and ist RNAV procedure for cloudbreaking before following the river Danube to Regensburg and then river Regen up north to the landing site. It was a great joy to see all those Mooniacs again; a tasty buffet as well as several "After landing beers" awaited the crews. Later that afternoon we went by bus to Regensburg and checked in at the hotel. A fancy dinner at Bischofshof restaurant concluded the day but there are reports that the bishop himself appeared to some Mooniacs later that night…
Friday morning began with a guided tour of Regensburg by the Stadtmaus (city mouse), a respected and particularly funny tourguide association. We did dive deeply into Regensburg's past and some nice appearances by historical characters brought fun and joy to this visit that was never boring. Early afternoon saw the Mooniacs boarding a Danube riverboat to the Walhalla memorial. The brave ones climbed up to the temple but others preferred to stay aboard and head straight back to Regensburg where they wanted to cure some oft he lost sleep of last night before joining the EMPOA Annual General Assembly. The AGM took place at the famous Kneitinger brewery and all participants were invited to dinner thereafter.
Contrary to arrival day, the weather was perfect on Saturday. One after another the Mooniacs took to the skies, most of them heading on to Krems. But some had to fly back to their homebases on this day already and say farewell to their comrades…
Krems
An impressive number of Mooniacs had Krems as their next destination, which is located in the Wachau region of Austria. It took a while until all speedmachines were airborne since pictures were being taken and several Mooniacs wanted to profit from low AVGAS prices at Regensburg. The flight itself led us along the beautiful and blue river Danube or overhead the Bavarian Forest and the Austrian region of the Waldviertel (Forest Quarter), where some pretty active cumulus clouds made for quite a bumpy ride. Those who opted for a higher flightlevel did enjoy a much smoother ride but had to fight strong headwinds.
Therefore everyone was happy to have landed safely at the nice airfield of Krems where we were greeted by our Austrian Mooniacs Gerhard Hobiger and Hannes Taborsky. An impressive selection of some of the finest wines from the Wachau made for a great After-Landing-drink. They were served as a "Weinkost" (Austrian form of wine tasting) and accompanied by some tasty local culinary delights. Some Mooniacs took this opportunity to stock up the wine cellar at home.
A bus brought us directly to river Danube just a little later where we checked in at Arte Hotel. An evening dinner at Wellenspiel restaurant set the stage not only for magnificient views of the mighty river but also to interesting talks around our speedmachines.
Beautiful sunshine set the stage for the Mooniacs on Sunday as well and after waking up to a hearty breakfast buffet with Austrian bakery delights, off we went to the southern side of river Danube to the Stift Göttweig abbey. Benedictian monks have been living and working here for centuries and their life was discovered during a fascinating tour. Especially the optical illusions found at two large paintings of the ceiling made us wonder what amazing craftsmanship was being produced in those times. A stark contrast to the beautifully restored abbey was the next sight: the old ruins of Aggstein castle that mightily overlook river Danube as well but invited to some climbing over and along the old walls. It was there that we met with the newly elected president of AOPA Austria and immediately started thinking about a cooperation of our two associations. The final stop of our tour was Dürnstein, a tiny village on the Northern banks of the Danube: with less than 100 inhabitants it is one of Austrias smallest towns but nevertheless welcomes more than 1.7 millions visitors each year. It was not only the pretty location of the village that was fascinating but to learn what large groups of Chinese, American but also European visitors can do to such a place: it is a spelling and a curse at the same time. We could not stop smiling when we saw a large group of Chinese entering a vineyard and taking dozens of pictures for their Instagram accounts.
The last evening of the trip featured another Weinkost and a Heurigen feast at the fine restaurant Klosterhof. This ancient estate set a worthy stage for a great final evening deep down in the wine cellars. The wine kept flowing down the throats of the pilots and the finest delicacies were eaten with the greatest joy.
Some French and Franconian pilots had already left with a westerly course on Sunday afternoon towards their homebases and the weather experienced by the Mooniacs that stayed to the very end on Monday was really not that great. With lots of rainfall and low ceilings everyone had to make his own flight preparations. But it was nice to see that everyone did cope with this challenge and some even took another new flying experience back home.
The 2019 trip was once again a great event for all participants and we are looking forward to the next trips with our speedmachines.
Lukas Straubinger and David Kromka